As you know, Vietnam Visa On Arrival is one of services of Vietnam Immigration Dept. to help foreign visitors save more time and money for visiting Vietnam. However, applicants sometime feel unconfortable by its disadvantages. These problems can be solved easily with below tips: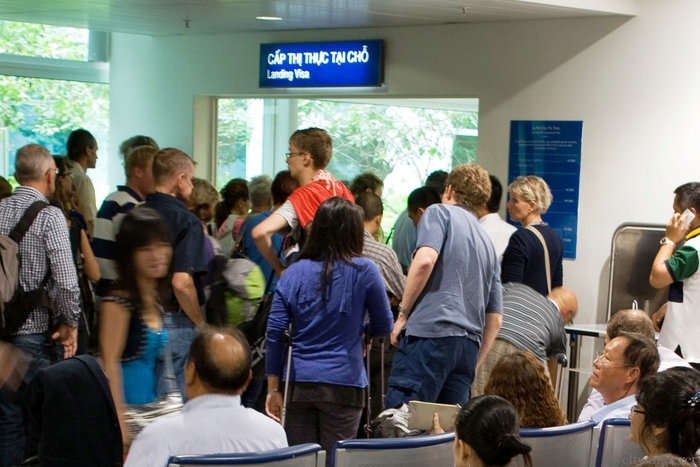 What are disadvantages of Visa On Arrival service?
Visa on arrival works only by air thus if you plan to come to Vietnam by crossing the border on land or on a cruise, you cannot apply for a Vietnam visa on arrival.
The wait time at the airport can be long. Generally, you have to queued from 15-30 minutes to get visa stamp, however it's may be longer on the holiday or the date have many flight take off the aiport.
Visa on arrival is often processed on a group basis with the public letter, so you may find your name on the list with another applicants you probably will never know of.
How to avoid the inconvieneces of Vietnam visa on arrival?
Make sure your visiting Vietnam by air before applying a visa on arrival. In case you plan to travel Vietnam by border crossing on land, you are pleased to apply for a visa at the Vietnam Embassy in the countries where you are staying or residing.
Use the extra services, in some emergency case, such as Fast track service if you tired of queuing a long line, or going with babies. With this service, the travellers have to do nothing at arrival airport to get the visa stamped but our staff will render the service until it is completed. Just take a note in the application form, for example "A fast track service needed" or apply extra services here
Use private visa approval letter if you confused and don't want to share information for many stranger people. In this case, please take note in the special request, for exsample "A private visa approval letter needed" when apply Vietnam Visa On Arrival
Have a nice day!
Vietnam Immigration Team