In the circular No.04/2002/TTLT/BCA-BNG issued by the Diplomatic and Police Security Ministry on January 29th 2002 on implementation instruction the circular No.21/2001/ND-CP issued by Ministry on May 28th 2001 on entry, exit and immigration of foreigners in Vietnam. At V (fifth) section of this circular about Vietnam visa categories, there're 10 main types of visa, is symbolized as below:  
>> Main Vietnam Visa Categories Change From 2015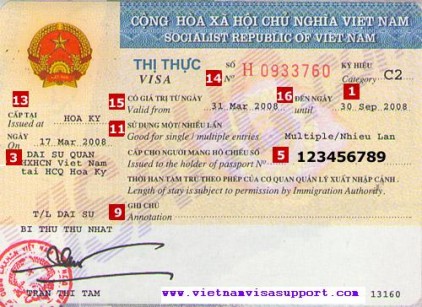 Vietnam visa type-C2 class
- A1 is granted for official members who are invited guests of Central Committee of the Communist Party of Vietnam or Congress, President, Government and equal guest of Minister, Deputy, President or vice president's people committee of province or centrally run cities combination with those relatives or assistants coming with them.
- A2 is granted for those who are members or representatations of foreign governments and those relatives or assistant entering with them.
- A3 is used for those who enter into Vietnam to work with foreign commissions or are invited by foreign commissions.
- B1 is used for those who enter into Vietnam to work with People's Supreme inspectorate, the Supreme people's court, ministries and equal ministries, government agencies, people's committee of province, central cities and central agencies of people's organizations, union or public.
- B2 is granted for those who enter Vietnam to process investment projects accepted by Vietnam authorized organizations.
- B3 is granted for foreigners who co-operate with Vietnam enterprises
- B4 is used for those who are staff working in foreign authorized offices, branches of culture-economic organizations or other fields, and non-government foreign organizations whose branches located in Vietnam.
- C1 is granted for those who enter into Vietnam with tourist purposes.
- C2 is granted for those who want to enter into Vietnam with other purposes that are different from the above purpose.
- D is used for those who haven't sponsored by Vietnam commissions, organizations, or the other individuals.
Note: D visa category which is not more than 15 days validity. The Other visas are more than 30 days validity.
We hope that the above information is helpful for those who want to apply Vietnam visa. If you need more information, or clear consultant before choosing Vietnam visa type. Please don't hesitate contact us via email visa@vietnam-immigration.org.vn or hotline (+84) 908.561.499
Source: From Vietnam Immigration Dept.
Have a nice day!
Vietnam-Immigration.Org.Vn