Normally, some applicants will be surprised, even they're shock when they receive a shared visa approval letter issued by Vietnam Immigration Department for many applicants. There are a lot of strange names and passport information. They afraid of their private information can be seen by the other.
Please don't be worry about this process because

it's common and legal for 15 - 30 applicants get Vietnam Visa on the same approval letter

.
This shared visa approval letter is very convenient and fast at the high seasons.
In fact, the personal information as full name, nationality, passport number and date of birth can be seen in the shared approval letter and the other can easily research to learn about you. That's a reason that some applicants do NOT want to share their private information as Full name, Passport ID, date of birth or nationality.
We always understand what your mind and protect your private information. It's no longer your concern because we launched a extra service - ISSUE THE PRIVATE VISA LETTER  for those who wish to keep their passport information details in private. We make sure that the private information of customer is protected through the whole visa process, include the granting approval letter process.
From now, Vietnam-Immgration.Org.Vn is the official site can separated into many private approval letters issued by the Vietnam Immigration Department.
A sample of private visa approval letter, which is an unique name appears in an issued document.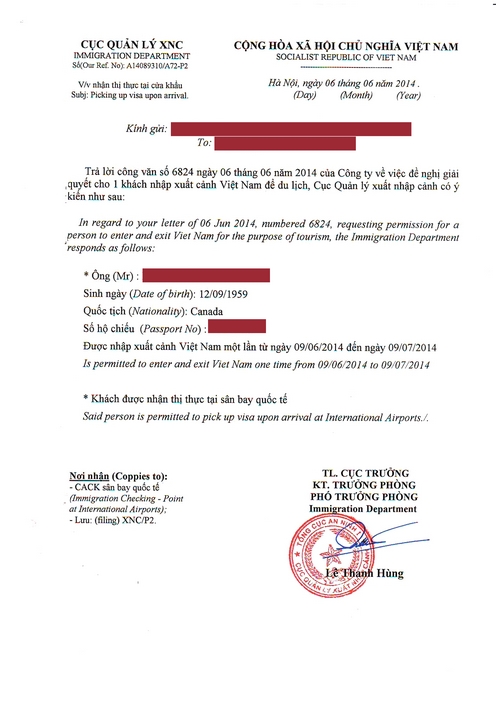 A sample of shared visa approval letter, which has many strange name appears in an issued document.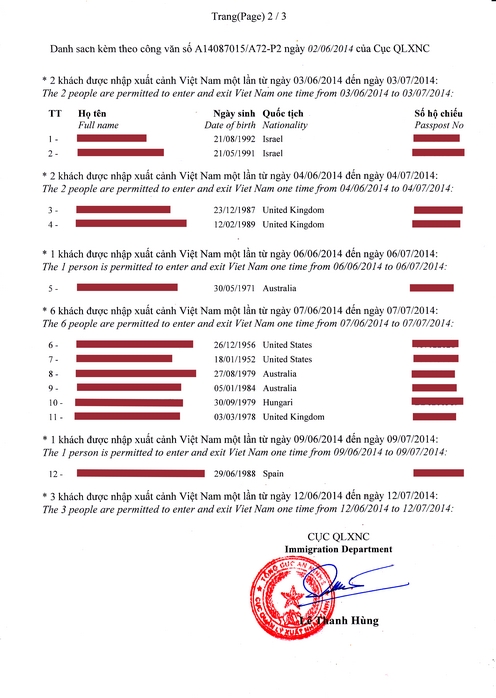 HAVE A NICE DAY!

Vietnam Immigration Dept.