The Vietnam Government updated some new changes of the Law No. 47/2014/QH13 on June 2014 about entry, exit, transit and residence of Foreign Citizen in Vietnam. These changes relate to the entry and exit of the Foreigners have Vietnam Visa Exemption. Follow the Article 20 of Law No. 47/2014/QH13: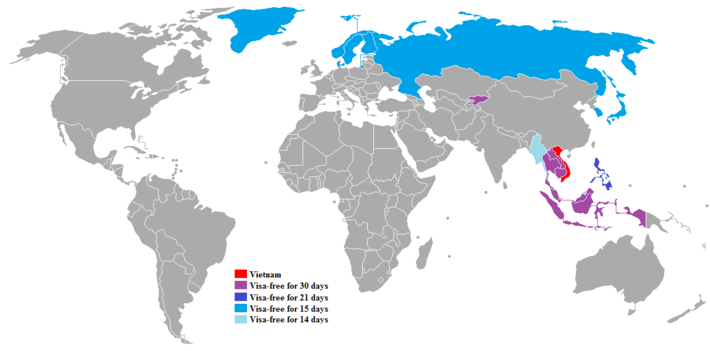 Vietnam Exemption Map
"Any Foreign Citizens that enters Vietnam and are unilaterally granted Visa-Free Entry must have a passport still valid for at least 06 months, and the entry date must be at least 30 days from the previous exit;"
It means that when you enter Vietnam with the exemption visa, you can re-enter Vietnam with the previous Vietnam visa exemption after exiting Vietnam for 30 days. You no need to apply the Visa Exemption again.
However in case you want to come back Vietnam sooner than 30 days, you have to apply visa for entering Vietnam.
This change will take effect from January 1, 2015.
With more than 10 year experiences in consulting service on Vietnam Immigration, we willing to provide useful information and support the foreign citizen without any matters. If you need any help please feel free to contact us via email:
visa@vietnam-immigration.org.vn
Have a nice day!
Vietnam Immigration Team