Vietnam Immigration Department (VID) is the official organization granting your visa. All Embassies and Consulates abroad need checking with VID before approving or issuing any Vietnam visa or the other related documents. It's a functioning bureau belonging to Vietnam Ministry of Public Security. Its powers and functions focus on supervising, approving, or disciplining Vietnamese citizens and foreigners' immigration, migration to and from Vietnam. In brief, Vietnam Immigration Department is the official unit issuing the following documents:
FOR PEOPLE IN VIETNAM
- Ordinary passport
- Comfirmation of Identified Card
- Permanent or temporary reside of other nationalities.
FOR PEOPLE OVERSEA AND FOREIGNERS
- Vietnam Visa, Vietnam Visa extension, Vietnam visa renewal
- Vietnam visa approval letter, Vietnam visa approval code
- Vietnam temporary or permanent resident card
- Guarantee to Vietnam immigration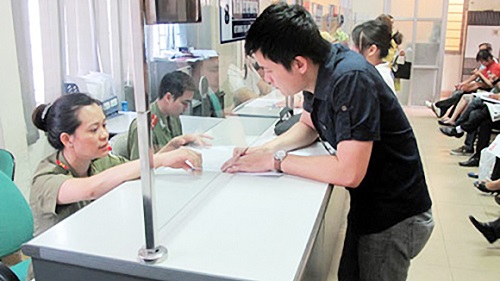 At Vietnam Immigration Department
VIETNAM IMMIGRATION OFFICES:
There're 3 main official offices of Vietnam Immigration Department in 3 regions of Vietnam: the North, the Center and the South.
Vietnam Immigration Department (A18) in Hanoi
- Address: 40A, Hang Bai Street, Hanoi, Vietnam
- Website: www.vnimm.gov.vn
- Phone for support:
+ (84)438264026: about entry and exit Vietnam, residing of foreigners in Vietnam, repatriating of Vietnam citizens living abroad.
+ (84)438260922: about entry and exit of Vietnam citizens
+ (84)439345609: administration procedures
+ (84)438257941: about entry and exit at Vietnam borders and other related issues.
Vietnam Immigration Department (A18) in Danang
- Address: No. 7 Tran Quy Cap, Da Nang city
- Telephone: + (84)7511-3823383
Vietnam Immigration Department (A18) in Ho Chi Minh City
- Address: No 161 Nguyen Du, Ben Thanh Ward, District 1, Ho Chi Minh City
- Telephone: + (84)838299398
- Fax: + (84)838244075
- Email: phongqlxnc@vnn.vn
HOW TO APPLY VISA ON ARRIVAL BY THE VIETNAM IMMIGRATION?
- Step 1: The applicants make online visa application via licensed Vietnam visa agency
- Step 2: The documents on behalf of their customers wil be submitted to the Vietnam Immigration
- Step 3: The customer's data will be verified by the Vietnam Immigration Department. Once they are checked, a approval letter will be issued and returned to Vietnam visa agent. The approval letter is format in JPG or PDF and sent to the applicants via email.
WORKING HOURS
Vietnam Immigration Department will start at 8:00 AM - 11:00 AM in the morning and 1:30 PM - 4:00 PM in the afternoon, from Monday through Friday, except the Vietnamese public holidays
Have a nice day!
Vietnam Immigration Support