In order to attract more tourists from the Russian market, the Ministry of Culture Sports and Tourism suggested Vietnam Government to extend the Visa Exemption for Russian up to 30 days.
The Ministry of Culture Sports and Tourism has an official letter for suggesting the Government about adjusting the visa policy to the tourists from Russia.
Accordingly, the department suggests the time for Visa Exemption up to 30 days, instead of 15 days as now, for Russian tourists come to Vietnam as often and stay for a long time. It'll helps for improving the efficiency of tourism activities.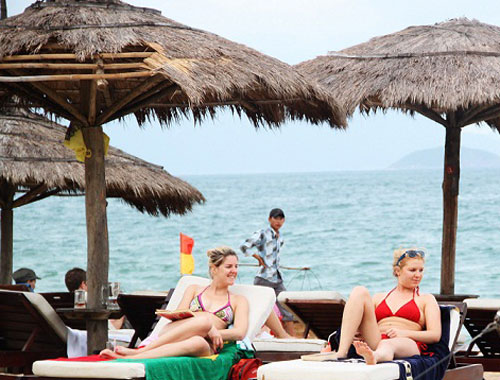 Russian Tourists In Nha Trang - Vietnam
To the Ministry of Culture Sports and Tourism, as the affectation of the extensive in South China Sea in the previous time, tourists from China and Chinese speaking countries decline so fast. Tourism industry is concentrating resources for attracting guests from other markets to have a rich demand and big amount of guests, especially in Russia market.
Following the statistic of the Vietnam National Administration of Tourism, the average of Russian guests on the expense of nearly 1.500 USD for a journey, in which other expenses are about 610 USD, higher 40% to the average expenses of international guests.
Previously, for creating the condition for welcoming guests to Vietnam and based on motion of the department, the government decides to free visa for citizen in 7 countries (15 days): Japan, Korea (2004), Norway, Finland, Denmark, Sweden (2005) and Russia (2009).
Need more information about Vietnam Visa, please feel free contact visa@vietnam-immigration.org.vn!
Have a nice day!
Vietnam Immigration Team