>> The Conditions For The Foreigners To Apply Vietnamese Citizenship
Vietnam Nationality Law and 78/2009 CP Decree stipulate that Vietnam is one of the nation has the regulation that only accepted one nationality and the foreigners need following documents to apply for Vietnamese Citizenship.
- The application for Vietnamese citizenship form.
- Curriculum vitae.
- A copy of birth certificate, passport or other documents evidencing the replacing value of foreign nationality.
- Bill judicial level issued by Vietnam Goverment for duration of applicants residing in Vietnam. 
- Judicial bills issued by foreign countries for the time of application for naturalization who reside overseas. 
- Judicial votes are granted within 90 days from the filing date.
- Proofs of qualified applicants Vietnamese citizenship: a copy of diploma graduate, university, college, professional school .etc where there is no proof of qualifications Vietnamese, the Justice Department held a direct interview to Vietnamese proficiency test .
- Proofs of accommodation, resident time in Vietnam are defined: a copy of permanent resident card.
- Proofs of life in Vietnam of citizenship applicants: papers proving ownership of property; salary certificate or income due to the agency or organization where they work level; certificate from the tax authorities on the taxable income;
- Proof is the guarantee of individual organizations in Vietnam.
- The certification of ward, town or local living of the applicant for Vietnamese citizenship to ensure the possibility of life in Vietnam.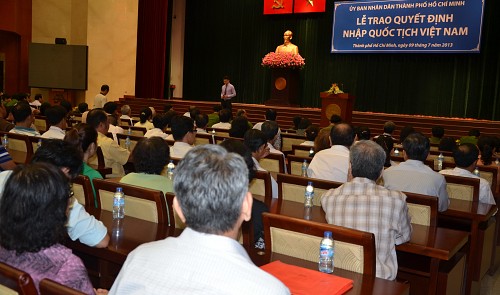 Some special cases:
First, the foreigners who have children together should attach a copy of the birth certificate of the child , and written consent of the parents about the child's Vietnamese citizenship ( if only the father or mother has Vietnamese citizenship)
Second, there're some cases are exempted from the Vietnamese nationality. Beside the related Vietnam citizenship exemption conditions, the applicant must be added :
- A copy of the marriage certificate if a spouse is a citizen of Vietnam.
- A copy of a birth certificate or valid papers to prove paternity, the mother in the case of the father, mother or child of Vietnamese itizen .
- Copy Medals, Medals, other noble title or certificate of authority, the competent institution of the Vietnam if there is merit special contribution to the cause of building and defending the country.
- People whose citizenship beneficial to the State, there must be more certificates of agencies where they work, the state agency level or provincial-level People's Committee confirmed the national income president of that will contribute to the development of science or economics or culture or society or art or sports.
Papers on file issued abroad must be legalized is, and must be translated into Vietnamese and certified in accordance with Vietnamese law.
Source: Vietnam Immigration Dept.
Next: How to proceed a application for Vietnamese citezenship.
Have a nice day!
Vietnam Immigration.Org.Vn